Jun. 17, 2021
How To Install a Chain Link Fence
A chain-link fence can either put things in the yard or keep things outside. Installing a chain-link fence is a project that requires a little skill and some hard work. Following these instructions will help you install a chain-link fence.
Plan the fence. Set up a fence in your territory and determine its location and size.
Set up the posts. Dig a hole 6 to 8 inches (15 to 20 cm) in diameter and 30 inches (75 cm) in depth. These holes can be between 8 to 10 feet (2.4 to 3 meters). Fill the hole with concrete, then insert the column into the wet cement. Make sure the column is centered and straight. The corner posts should be at least 3 inches (7.5 cm) above the ground than the line posts.
Additional accessories. After the concrete has hardened, slide the tension band and the track end band on the corner post, with the long plane of the band facing outward.
Install the upper rail. Place the top of the line column on each column. Start with the corner post and slide over the railing at the top of the post to maintain the length of the fence. Fasten the rail end bands to the upper rail. Repeat this process for all fences.
Pull a tension wire. Fix a tension wire on the bottom rail end strap of a corner post. Pull the wire over the length of the fence. Repeat this process for all fences.
Hang the chain link. Unfold the chain link fabric. Sliding the pull rod through the first row of diamond chain links. Connect the tension rod to the tension strap on one of the corner posts. Stretch the chain fabric to the opposite corner post. Pass the other tension bar through the last row of chain link diamonds and fasten it to the tension bands on the column. Repeat this process for all fences.
Use fence straps to fix the top railing and line posts to keep the chain fabric flat and firm.
We are chain link fence suppliers. Please feel free to contact us if you are interested in our products.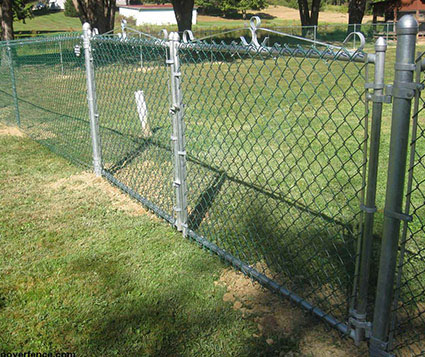 Wire chain link fence