Jul. 16, 2020
Plastic-coated gabion nets: the use of ecological grids
The selection factors of the ecological grid are grid, wire diameter, material, and grid size.
The ecological grid is actually a green grid, which is called the ecological grid because of its unique ecological properties. In river bank protection and flood control, ecological grids can improve the stability of river slopes and prevent river turbulence from washing the banks. Provide a predetermined value of the roughness coefficient of the riverbank, the green effect of the landscape is very significant.
The eco-grid is a wire made of steel wire from mechanical hinges to different shapes, and then combined or made into an eco-grid frame. An ecological net mat (buffer) and hanging nets according to the needs of different projects. Add a stone or other filler to the grid to form a whole.
The structure is simple, and the ecological cage technology only needs to seal the stone. In a tank without special technology or hydropower.
The landscape protection effect is good. The pores of the ecological grid are conducive to the natural flow of water and the organic trade of water and soil. Establish a suitable living environment for aquatic organisms and microorganisms, and purify the water body by itself. The ideal ecological construction and ecological restoration and construction engineering measures and plant measures adopt the ecological grid network box process. The combined method can effectively prevent soil erosion, the landscape effect is fast, and the landscape effect is more natural and rich.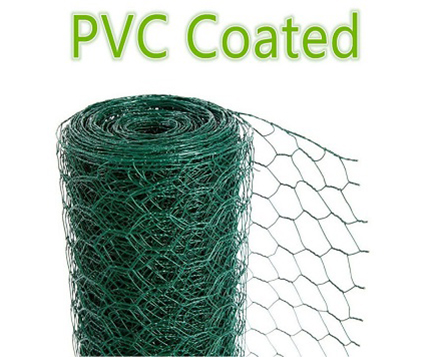 Hexagonal Wire Netting
Plastic coated gabion net: the purpose of Hexagonal Wire Netting
The thick hexagonal iron mesh is a hexagonal mesh composed of galvanized wire and polyvinyl chloride coated wire. The cage size is large and the wire diameter is large. The diameter of the wire used is determined by the size of the hexagon. The edge of the outer frame can be divided into one side, two sides, and a movable side.
The serious disaster of rivers is the erosion of rivers on banks, causing floods. Cause huge losses of life and property and a lot of soil erosion. Therefore, when dealing with the above problems, the application of the ecological grid structure has become one of the better solutions. Can protect the riverbed forever.
The construction of the river channel is related to the stability of the slope and river bed. Therefore, the selection of ecological grid structure is the main method of many natural river reconstructions and manual excavation in the past 100 years. It has an effective and permanent protective effect on the river bank or river bed. He also has good results in controlling water flow and preventing water loss, especially in environmental protection and water-saving.
We are the Galvanized Welded Mesh supplier, if you are interested in our products, please feel free to contact us.